Write-Up is an innovative software that simplifies the tracking, recording and reporting of stock transactions and provides a consistent standardized format. Write-Up is the ultimate productivity tool to help you better serve your high net worth clients.







Write-Up makes stock portfolio accounting a breeze. Accountants of all levels in your office can now handle this important function to ensure better resource allocation. Partners and staff can now use their time more profitably.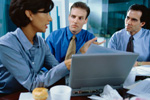 Most accountants use spreadsheet applications to record information such as the purchase and sale of securities, dividends and interest income. The data from the spreadsheets must then be manually re-entered into an accounting program or a working paper application such as CaseWareİ. The complete accounting process is extremely time consuming, error-prone and quite costly.
TJPS Software Inc. has solved the problem with Write-Up, a unique innovative software application that provides accounting professionals with a sophisticated tool to record and track all types of investment transactions in a consistent standardized format and generate the necessary accounting reports and income tax schedules.
Write-Up does away with duplicate data entry. Write-Up is a true single entry system – you enter data only once, post automatically to the GL and generate reports, income tax schedules – even spreadsheets.
The entire process is simple, easy to use, fully customizable and, above all, FAST.
Powerful,
Flexible
and FAST...
Free up your partners and accounting staff
Write-Up software makes FAST work of recording stock transactions. Easy to learn and use, Write-Up handles multiple clients, brokers and reports and provides a fully customizable GL module.

• Supports a full range of broker transactions, including buys and sales, stock splits, spin-offs, trust unit distributions, puts and calls and much more.

• Lets you enter data by simply following the broker statements, allowing for at-a-glance verification.

• Automatically generates on-screen all the reports and income-tax schedules you need, in detailed or summary form.

• Supports all three key transaction types: broker transactions, banking transactions, adjusting entries.

• Provides a standard internal format for easy file sharing among accounting staff.

• Makes your work even easier by exporting data to Taxprep®, CaseWare©, Simply Accounting©, Microsoft® Excel and other common formats.
---
Microsoft ® Excel is either registered trademark or trademark of Microsoft Corporation in the United States and/or other countries.